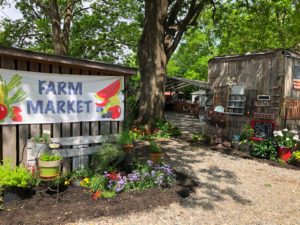 The Arkansas Grown program, administered through the Arkansas Department of Agriculture (Department), began in 2012 to help promote the many agricultural products that are grown here in Arkansas. The program is often used to help make the critical connection between producers and consumers.
This website was developed by the Arkansas Department of Agriculture (Department) to help buyers locate Arkansas producers. Any Arkansan that produces an agriculture product may join the program. 
---
Listing information is provided by members and does not imply endorsement. Members are responsible for the accuracy of their listings.
The Arkansas Grown program is administered by the Arkansas Department of Agriculture. The "Arkansas Grown" logo is a registered trademark of the Department filed with the Arkansas Secretary of State. It may appear in black and white or black and green versions.
This mark is to be used solely for the purpose of promoting Arkansas agricultural products and may only be used under written agreement with the Department in conjunction with the Arkansas Grown Branding Program.
For the purpose of the Arkansas Grown Branding Program, the term "Arkansas agricultural product" is defined to mean raw or finished goods consisting of or made substantially from farm, forest, and nursery products produced in Arkansas. The Department has sole authority to determine if products meet these standards and may establish criteria specific to unique products.
Those wishing to display the Arkansas Grown brand on their product or at their point of sale must make application to the Department Marketing Division on the appropriate registration forms. Use of the Arkansas Grown brand does not imply any affiliation or endorsement by the Department and no such statement can be made by the registrant.
Registration to use the Arkansas Grown brand may be revoked at any time if the brand is used in a manner inconsistent with the requirements of the Arkansas Grown Branding Program.