Service to one's country, state, and community is a love of labor undertaken by both farmers and servicemembers of our armed forces and their families. In each profession, early mornings often begin a long day's work. Much like serving in the military, farming requires passion, purpose, dedication, diligence, and drive. And much like serving in the military, farming is 24/7, not 9 to 5.
Task & Purpose
Take a minute to appreciate the fine Arkansans who have served us working on a farm, in uniform, or both. The Homegrown by Heroes (HBH) program through the Arkansas Department of Agriculture aims to highlight Arkansans who serve or have served in uniform and are involved in farming. For the last five years, the Arkansas Grown Homegrown by Heroes program has helped bring recognition to farmer veterans' products and supported veteran-owned agriculture businesses across the state of Arkansas.
To earn the HBH certification, members must be current U.S. service members or veterans who maintain a minimum of 50% of management and ownership in a farming operation. The HBH label informs consumers that agricultural products carrying the logo were produced by U.S. military veterans, and it allows veterans to differentiate their farm and ranch products in the marketplace.

Arkansas Farmer Veteran Coalition
In conjunction with the Homegrown by Heroes program, the Farmer Veteran Coalition (FVC) aims to support farmer veterans with essential training, financial services, business plans, and even support with equipment purchases. Both initiatives tap into the inherent skills and character traits unique to farmers and service members.
As described on the FVC website, the new Arkansas Chapter of the Farmer Veteran Coalition connects veterans, active-duty military, and their families in Arkansas to our state's many agriculture and veteran resources. They also work in concert with programs like Arkansas Grown Homegrown by Heroes to host events and training opportunities to assist with networking, education, and connection to fellow Arkansas farmer veterans.
FVC chapters are a great way to integrate farmer veterans into local agricultural communities. They bridge the gap between a nationally driven movement and resources at the state and county level to help them reach their full potential in the agriculture industry. They are also essential for sharing regional opportunities with their members.
According to the most recent Census figures, over 7,800 Arkansas farmers identified as current or former members of our armed forces and collectively manage over 1.7 million acres of Arkansas farmland. This underscores the impact farmer veterans have on our Arkansas ag industry. To date, the Arkansas chapter of FVC serves over 500 members.
HOMEGROWN BY HEROES IN ARKANSAS
Tammy Sue's Critters demonstrates the value veteran-owned and operated farms in Arkansas add to our agricultural industry. Located in North Little Rock, this business is a shining example of the resilience and success of a Homegrown by Heroes farm. Tammy Sue and her husband have a storied history of DIY crafting and homesteading with a mind-boggling array of trades under their belt.
On any given day, Tammy Sue and her family can be found tending to their many farm animals, cultivating their herb garden, gathering honey from their beehives, or crocheting washcloths. Tammy Sue's goat's milk is used to make everything from homemade soap to ice cream and yogurt. She also produces a wide variety of lotions and salves made with natural ingredients for dry skin or even to keep pesky mosquitoes at bay!
Due to this family's unparalleled motivation and resourcefulness, it comes as no surprise that their many products are found in farmers markets, craft shows, and retail outlets across Arkansas. If they are not on shelves near you yet, you can always visit their online store to have their quality handmade goods delivered directly from their farm to your doorstep.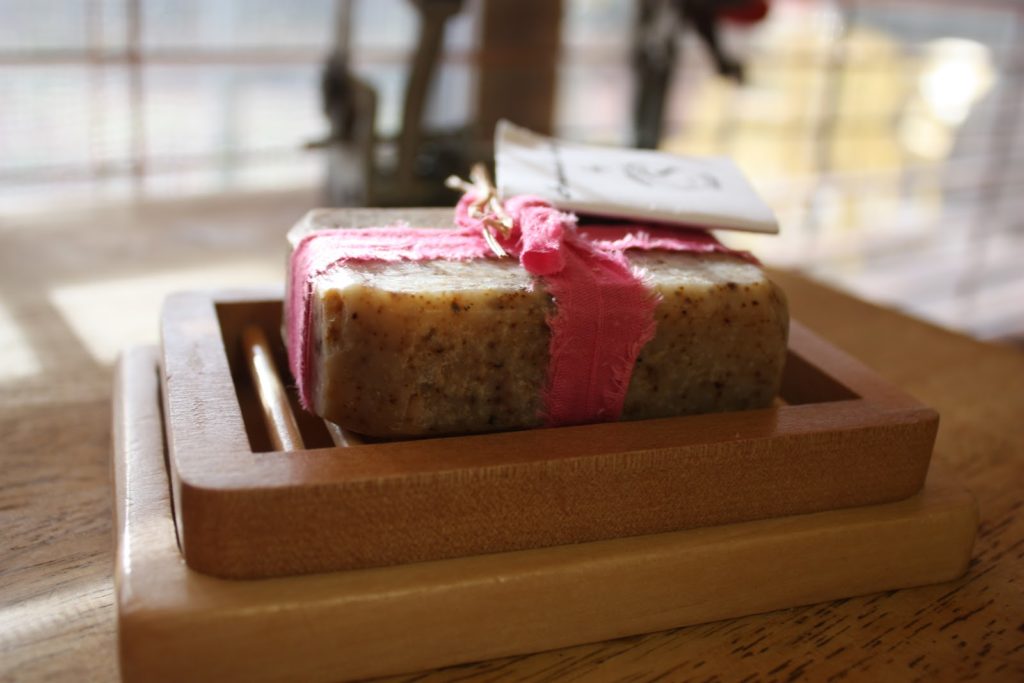 A MISSION TO GROW
For those veteran farmers who have yet to participate in the Farmer Veteran Coalition and Homegrown by Heroes programs, you too can still enjoy the success Tammy Sue and Skip have found with their help. Visit the Homegrown by Heroes webpage to learn more about both programs and how to join.